Ready Welder 10000ADP-CS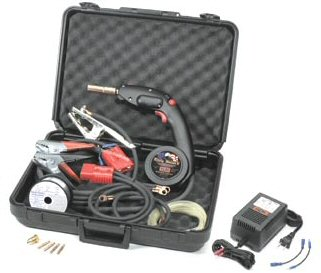 The RWII Model 10000ADP is cabled for battery operation and with the addition of the AC to DC Power Converter the Model 10000ADP will also connect to CC (constant current) stick machines as well as CV (constant voltage) machines. The Model ADP is most frequently bought and used by the maintenance facilities/public works, construction companies, industrial companies, as well as, repairmen, maintenance workers, 4×4 off-road enthusiasts, farmers, boaters and the agricultural industry. Since there are more Stick welding machines in the market place than any other welder, the Model ADP would be the perfect buy for those want the ability to connect to all DC out put welding machines. The Model 10000ADP has a two year 100% parts and labour limited factory warranty.
Out of Stock
Instructions available for simple conversion of standard model if needed.
Price: $950.00 (incl. GST)
(Credit card/Paypal payments incur a 2% surcharge)
Freight: $25.00*
* Surcharge may apply to some remote areas, please call.
10000ADP-CS Features:

Welds steel, stainless and aluminium or any metals where standard one or two pound spools are available
connects to batteries:

18 volts can do thin sheet metal
24 volts will single pass ½"/12.5mm @ 275 amp
36 volts will weld up to ¾"/19mm @ 350 to 400 amp

welds 22 gauge to ¾"/19mm
connects to MIG/constant voltage output welders
uses wire sizes from 0.6mm to 1.2mm without changing rollers.
uses heavy-duty TWECO quality front end consumables
wire speeds of 1.3m to 23m per minute
polarity indicator lights
three metre cable with quick disconnects, can be extended to 30m
built-in gas valve
ground cable attached

Ready Welder II Case Includes:

RWII high-impact MIG gun
3-metre gun and work cables
One spool of flux core wire
300 amp work clamp
Two battery clamps
Extra tips and gas hose fitting
Three metres of gas hose
Foam lined blow-molded tough briefcase
AC to DC power converter supply to drive gun controls when connected to a CC power source