ReadyWelder Testimonials
Jim Byrd sent in this information about his rig:
Each of the AGM batteries is protected by a 300Amp circuit breaker.
Charging is through a Redarc 40Amp DC to DC charger.
The batteries are also used to operate:
3000W / 12000W LF Pure Sine Wave inverter
Compressor for automatic air suspension
Crane with electric winch
Fridge / Freezer
Battery charger for power tools
Sundry lights
my Ready Welder 10000CS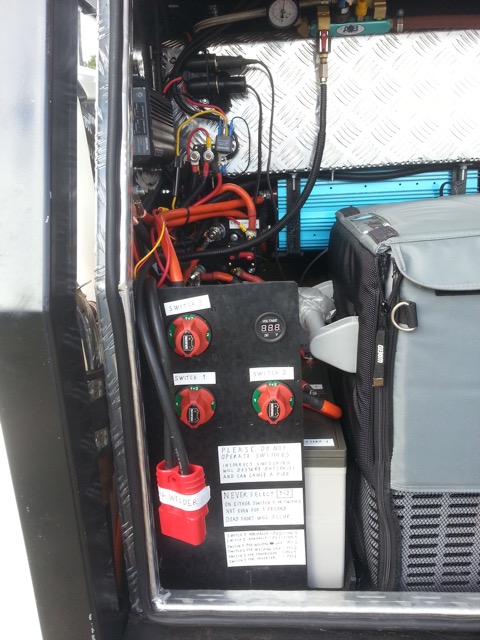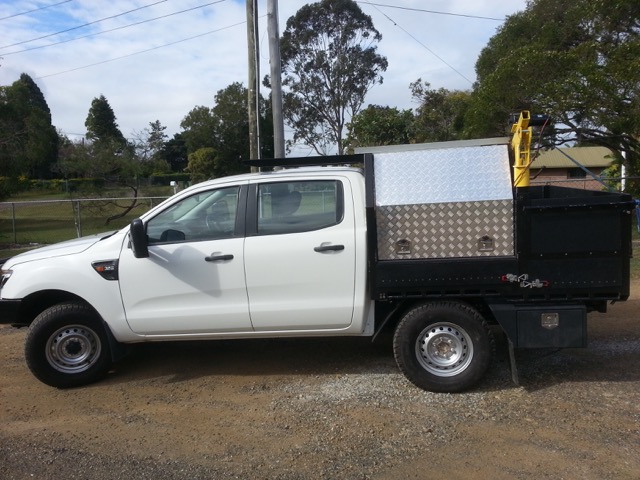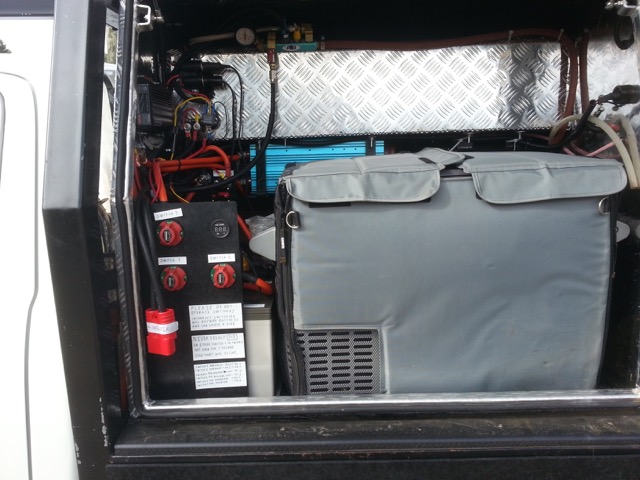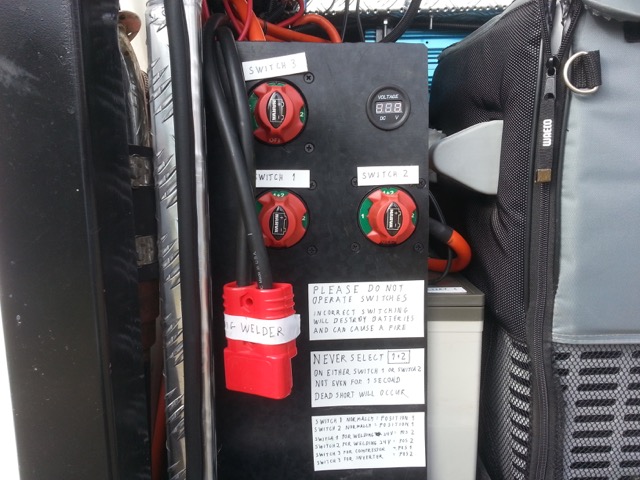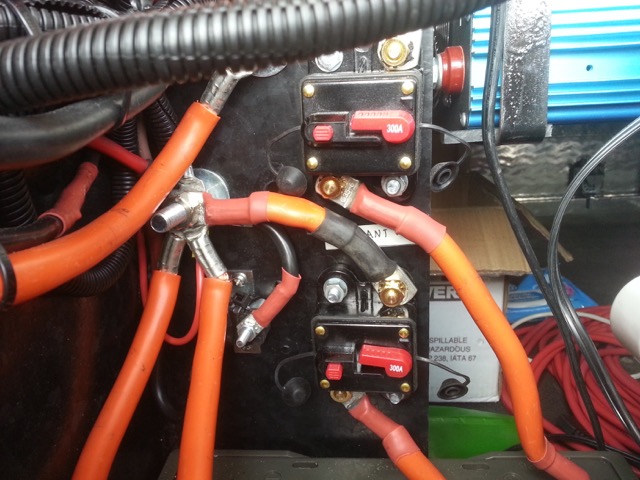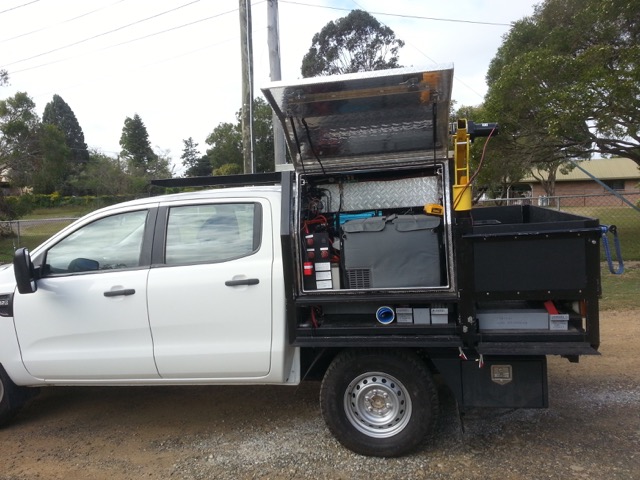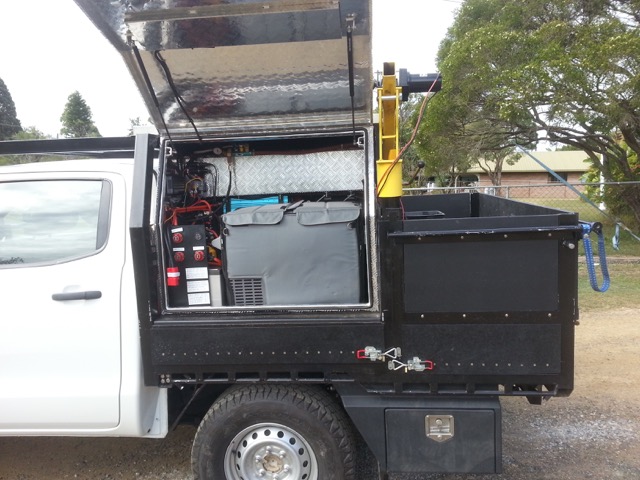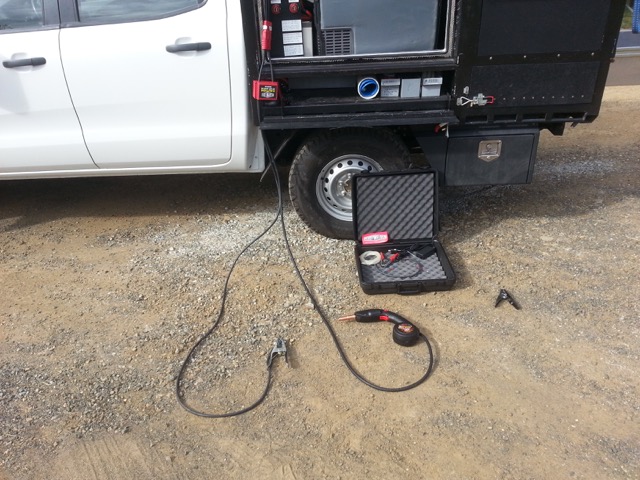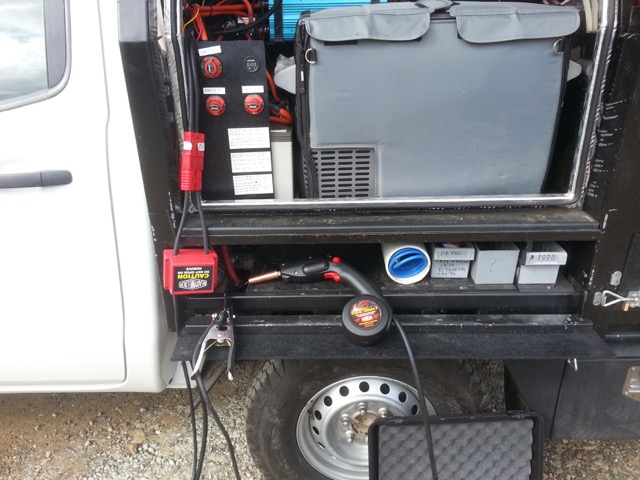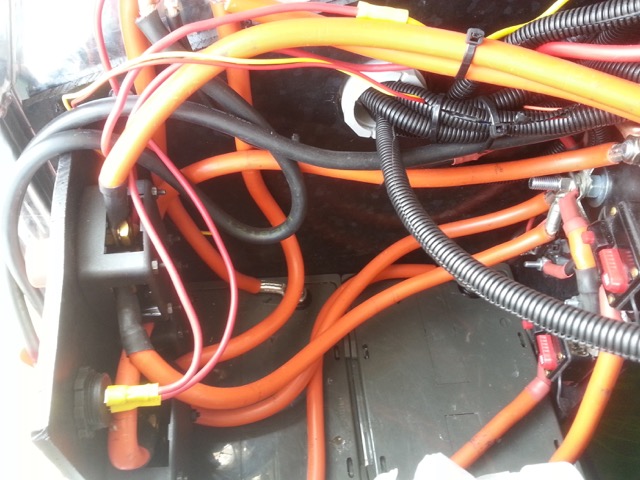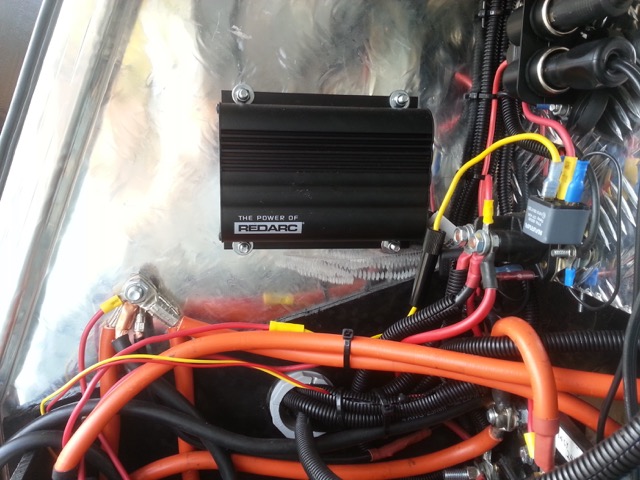 ---
I am writing now to tell you again how happy I am with this product. I have to admit that I was skeptical at first but now I am customer for life. As I opened the box I could tell right away that this is a military grade product designed to last. And for anyone else who has doubts I can only say that this product truly is everything that you advertise and more. Portable, versatile, powerful and so simple that I can still barely believe it works this well. If you can charge batteries then you can use this machine. I am still asking myself why anyone would buy anything else when this does so much. You could buy something alot more expensive and still not have the rugged portability and power that this thing delivers. And the convenience of cheap parts right on your website is just icing on the cake.
I have recently been working on converting my house to solar and when I saw that there is a welder that will work from the same power source as my house I knew that I had to at least give it a try. Now I have a tool that is almost free to operate and compatible with everything I own.
I will recommend this welder to anyone who is looking for a top quality tool and as one of the primary purchasing agents for my district will definitely be looking into getting some of these for our parks.
It is such a nice change to find a company that puts quality before profit. Thank you for making one of the finest tools I have ever owned...
Don S.
GIS Specialist/Fire Management
California State Parks
---
I just received my RW 10000 and it is better than you said. I this is my first time having a wire feed welder in my hand. I had never seen a spool gun until a month ago. I am not good with the ready welder yet but the first welds I did are nearly as good as what I do with the stick welder I have been using for years.The first tack I did was a surprise. I pulled the trigger, the wire shot out & hit the joint, I jumped breaking the ark but forgot to let up on the trigger, so I was looking at 4 inches of wire sticking out the end of the gun. I turned the wire feed down & had fun welding for the first time in years. I am impressed at how little wire & battery power it takes to weld. It is great to be able to hold a piece in one hand & tack.
I have friends coming over to try it out since they are convinced I got ripped off. They say things like "look at the power my welder draws, it stands to reason a couple batteries won't do the job" and "It takes a big machine to do a big job". I am going to have lots of fun with these guys. I will let you know what the boys say after they run a little wire through my ready welder."
Donna and Ray
---
"I have been a welder for nearly 35 years and learned in the 'old school'. My family owned several muffler shops and I started welding and cutting with gas, later moving to electricity. In our business clean work was nearly impossible so I learned to weld under some of the worst conditions imaginable and still made it work.
I was an assistant welding teacher at Cerritos JC located in Norwalk, California and have welded with MIG, TIG, Gas and stick. AC and DC. I've welded overhead, sideways, and upside-down (in the hull of an aluminum boat). In other words I've welded in about every way conceivable. I can weld beer cans together, no brag — just fact.
Recently I was shown your RW-II by my Snap-On Dealer and frankly thought it was another way of separating me from my money! He told me to demonstrate it for myself for a few days. I had a trailer ball that kept coming loose on the hitch so I started with that. I left the industrial quality paint on the 0.5 in. thick steel. I used two Interstate MF24'€™s as recommended, turned the heat up all the way, dropped my helmet and struck an arc. I ran about an inch of bead at first but thought something was wrong since there was no noise or wire €"˜kick back" which you usually feel when you are trying to butt weld unpreheated thick stock. I raised my helmet to see what the problem was and to my surprise the bead HAD PENETRATED the work. I ran a couple more beads to confirm and sure enough this baby was putting out the amps! I then flipped the work over and continued to weld the painted surface-galvanized nut/washer combination with amazing results. Although the beads were not perfect (due to zero surface prep and a bit of contamination from the galvanize, paint, etc.) they were completely acceptable and HAD PENETRATED the 0.5" stock!
I simply couldn'€™t believe my eyes. This thing had actually worked and with very little effort or spatter (although I did pick up a couple of small slag burns on my bare foot).
I tested it next on one of my many trailers with some thinner but equally dirty, unprepared stock with excellent results. Although I have not been able to test it over a longer period of time I was satisfied with your warranty and service policies after speaking with you on the phone.
I immediately called my Snap-On Dealer and bought your unit trading in my larger conventional MIG unit. I have ordered solid wire and aluminum wire as well as Argon so that my garage is now complete.
The lightness of the unit and the compact size of the attache case are perfect for transportation and the ease of set-up are suitable for my needs. This welder will be ideal for trips to the desert and river so long as no one else knows I have it (I don'€™t want to work all weekend long).
Accolades to your welder and I look forward to many years of service from it!€
Gary R. Vineyard, Sr.
Poway, CA
---
"I want to thank you for building a tool that is finally worth more than you pay for. I am a completely novice welder and have always wanted a welder that was capable as well as portable, and oh yeah, fairly inexpensive. I'€™m in heaven with this thing! My welding looks like I'€™ve been doing it a lot longer than I have. A good friend always told me that if you want to find out how good a weld is take it apart. I played with the welder for about 4–5 hours until I got the speed and voltage (18 volts seem to work for most of my work) figured out and then tried some different welds. Then the fun part started! I ripped them all apart and was pretty impressed with the penetration and beads. I don'€™t see why anyone would need anything else in their home shop.
I work for Crown Lift Trucks as a road technician, and have been using the rig with the industrial batteries that drive my lifts, using the jumper set-up. I used to have to rent a gasoline gen/stick welder if anything on my trucks had to be fixed. Now, with this on board my truck, I have been able to fix things same-day. This tool is a real asset for me on the job, which also adds to my value to my boss. I have recommended that he purchase a couple for the other techs. One nice thing about them is they'€™re easily mailed UPS (our territories don'€™t allow some of us to get to the shop often).
I found out about your product in the 4 Wheel + Off-Road magazine. I'm building a 1972 Jeepster Commando into a New England wet-rock crawler, so the welder will get a good workout at home, too. I bought the welder through the Northern Tools Catalog. Thanks again for building such a great product!"
Jeff Wychek
Chichester, NY
---
"About a year ago I purchased a Ready Welder and only today have I had a chance to rig my truck up to use it. I installed a second battery and with a couple of cables I switch my batteries to produce 24 volts. Disconnecting my truck of course. I tried the welder today and I have only one thing to say — "That is the Goshdaingest welder I have ever used". When I pulled up to a repair job in a F150 Ford pickup and got my briefcase out, everybody stared. A few minutes later when I'm putting my briefcase back into the F150, with a smile on my face because I had just done a great welding job, the guys were still staring. I can hardly wait to use it to build my aluminum boat with my aluminum trailer. Love it!"
Joe Purnell
Texas
---
"Since purchasing the Ready Welder II we have had a chance to really try it out. The Ready Welder is portable, convenient and easy to use. It is even simple to change the spool. We have taken it to Consolidated Freightways and worked inside their trailers using the 25ft extension cord, it'€™s great! The Ready Welder quickly welds the lift gates for Enterprise Rent-a-Truck. The true test was when we made some major modifications to 51 converter gears at GI Trucking, that little welder holds it€™s own. We are very glad we made this purchase and in a few months it has paid for itself. Thanks again."
Jim Rogers
Brother's Fleet Service
Gardena, CA